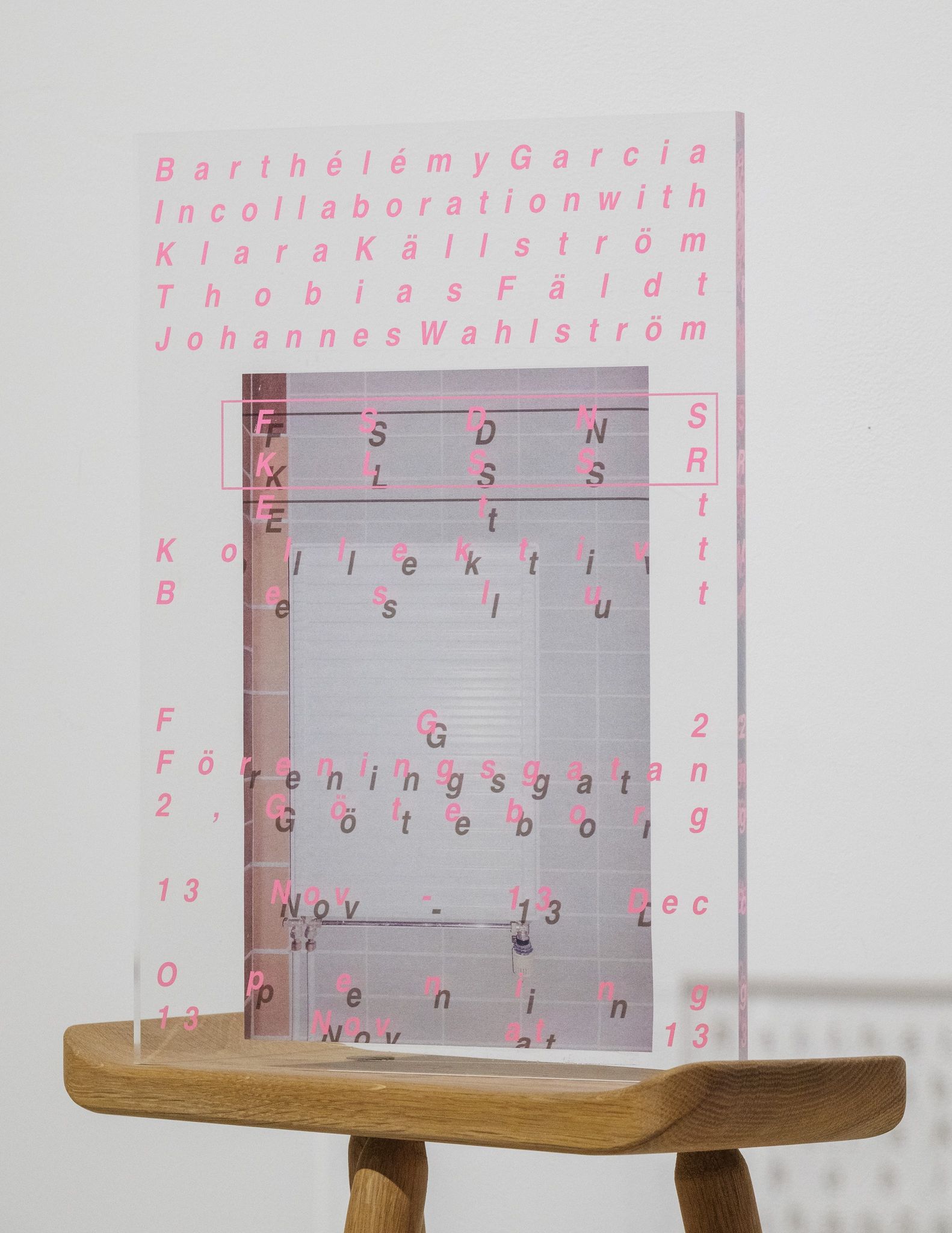 © Barthélémy Garcia / FG2
Barthélémy Garcia
FSDNS KLSSR – A Collective Decision
FG2 presents its eight exhibition at Föreningsgatan 2 in Gothenburg.
Opening: Friday 13 November at 13:00
In 2020, Barthélémy Garcia received the Swedish Arts Grants Committee's Assistant Grant with Klara Källström and Thobias Fäldt. The exhibition is a result of their collaboration, together with Johannes Wahlström.
Exhibition period: 13 November – 13 December 2020
The predominant decor and subject of Barthélémy Garcia's work is the city, illustrated by his ongoing project Fasadens Kulisser, The Facades' Coulisses, which includes his current exhibition FSNDS KLSSR – Ett kollektivt beslut, (a collective decision) shown at FG2.
In his artistic practice, Garcia departs from the idea that ​​the material itself carries significance. He believes that objects possess an independent existence extending beyond the meaning we humans attribute to them. The starting point for FSNDS KLSSR – A collective decision is an exploration of the material, with the camera aimed at the city. The photographer's suggestive gaze captures its social and physical distance, while being in the position of a bicycle messenger moving through today's gig economy.
Urban landscapes have a longer lifespan than us, humans, and form the matrix for the objects produced in our society. Our lives are closely connected with things. Decisions about our living environment are made in spaces that are generally not considered 'political' — it's the material that plays a decisive role here.
The amassment of everything that man produced from wood, glass, plastic, metal, brick, asphalt and concrete last year, would exceed the total weight of the entire biosphere; all that is living on earth. The exhibition at FG2 invites us to focus our attention on various aspects of our physical milieu — aspects that we are rarely conscious of, despite the impact they have on our lives.
Barthélémy Garcia (1985) is a French-born artist from Pertuis who has been based in the Swedish city of Gothenburg since 2011. He completed his BFA and MFA in Photography at Valand Academy after having studied Art history and Archeology in Aix-en-Provence. Garcia addresses life through — often mundane — materials and objects. During his time at Valand he developed a mild obsession with a radiator, subsequently expanding to AC's, cell towers, artificial grass, roofs and supermarkets. His work is intellectually inspired, carried out intuitively, and, more often than not, includes misplaced academic quotes.
Other participating artists in the exhibition are Gabriel Nils Edvinsson and Ksenia Yurkova.
The exhibition was realized with the support of Albért Faus, Una Sigtryggsdottir, Christoffer Rutström, Maria Safronova Wahlström, Anne Grietje Franssen and Nadén arkitektur och snickeri.