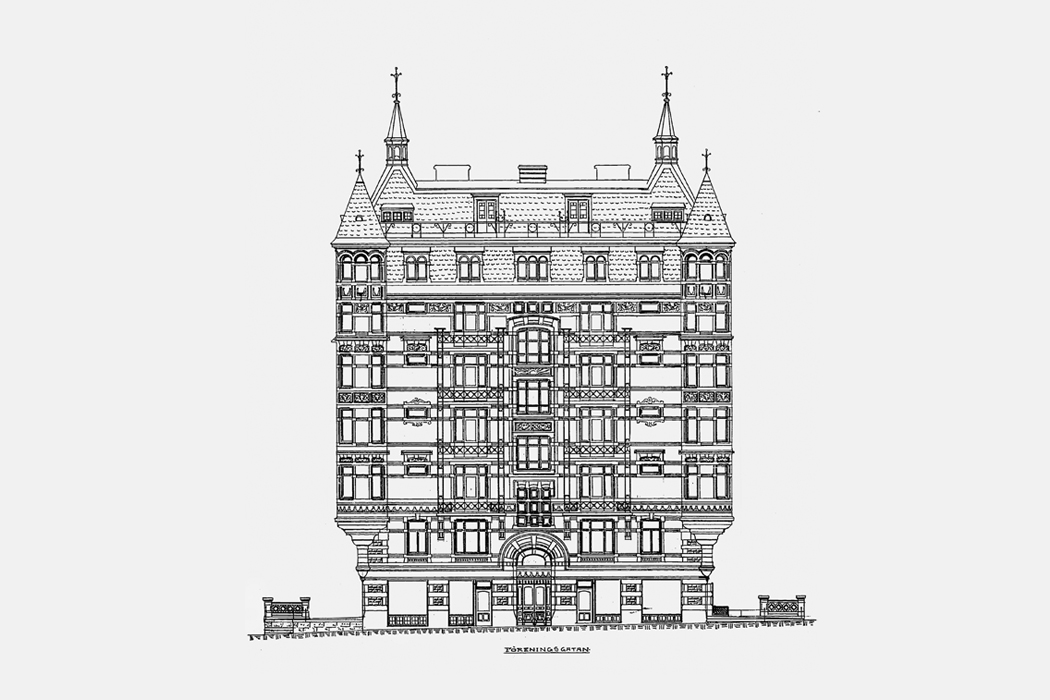 FG2 is an exhibition project formed in 2018 by artists Klara Källström & Thobias Fäldt and architect Per Nadén at Föreningsgatan 2 in Gothenburg, and wants to contribute to the development and dissemination of contemporary photography in Sweden and internationally. 
Johannes Wahlström in collaboration with Klara Källström & Thobias Fäldt and Barthélémy Garcia
Tystnadskulturen / Vacant Niche
FG2 presents its tenth exhibition at Föreningsgatan 2 in Gothenburg.
FG2 is part of GIBCA Extended 2021. Opening on Thursday 2 September, 17:00-20:00.

Exhibition period: 2 September – 21 November 2021
Humankind can live a whole life without further reflection on the environment that makes our life possible, provided that everything works as it should. But as soon as the routines are broken, a world of questions that have always remained unanswered opens up. Unanswered for the simple reason that they were unasked. These unanswered questions form a pattern of blind spots, and constitute our collective culture of silence. At FG2, our society's culture of silence is illuminated by something as mundane as the empty niches of our facades. These voids, untold stories, unexplored statues, and unplaced memorials, give us an opportunity to see what we cannot talk about. 
FG2 has been generously supported by Gothenburg Arts and Cultural Affairs Committee for the participation at GIBCA Extended 2021.
___
Klara Källström & Thobias Fäldt and Thomas Sauvin
On This Day

FG2 presents its ninth exhibition at Föreningsgatan 2 in Gothenburg.
Klara Källström & Thobias Fäldt and Thomas Sauvin have been rewarded Hasselblad Foundation's Large Photobook Grant of 2021 and the book will have its "Sweden-release" accompanied by an exhibition together with the gallery project FG2 at Föreningsgatan 2 on June 22, 17:00-20:00.
Exhibition period: 22 June – 22 July 2021
On This Day revolves around two archives; one consists of a collection of date-stamped everyday images from Beijing, China, taken between 1985 and 2005. The other archive is the Euro-American website onthisday, which maintains a daily register of interesting world events – seen from an Euro-American perspective. The artists have paired the date-stamped images with events of that day from the website creating a clash in the combination of the amateur photography archive from China and random events in the west.
Excerpt from essay by Daniel Palmer:
"Every image suggests a story. But Sauvin never wanted to be the sole author of the archive, and constantly seeks new perspectives on it in collaboration with others. Swedish artists Klara Källström and Thobias Fäldt are logical collaborators, given their publications have also sought to excavate complex layers of history and explore the gaps between what is visible and knowable. (…) By using the date stamped photographs to drive their investigation, one readymade archive driving the other, they force together two incommensurable sources of incomplete information about the world. 'Two inadequate descriptive systems', as Martha Rosler might say, the gap between them complicating the self-evidentiary claims of each other, revealing their obvious omission and biases."
Excerpt from essay by Johannes Wahlström:
"Much like libraries of the past, search engines are the arbiters of knowledge in the digital world, albeit functioning in a free market economy. In order to generate profit from our search for information, these engines have created a set of algorithms that per definition feed audiences with the lowest common denominator of relevance for the greatest amount of people. Paired with a self-perpetuating reinforcement. Or another way of putting it: different people can be interested in different information, but if cats are universally appealing, cats will be prominently displayed. And if there is a demand for cats, algorithms will provide with even more cats. This is the equivalent of food stores displaying candy in the most prominent shelves, expanding into other sections, and gradually replacing all other goods as the most appealing, self-reinforced, lowest common denominator amongst consumers."
*
A project by
Klara Källström & Thobias Fäldt and Thomas Sauvin
Designed by
Axel von Friesen & Michael Evidon
Essays by
Daniel Palmer
Johannes Wahlström
*
FG2 has been generously supported by Gothenburg Arts and Cultural Affairs Committee for the exhibition and book launch.
__
Barthélémy Garcia
FSDNS KLSSR – A Collective Decision
FG2 presents its eight exhibition at Föreningsgatan 2 in Gothenburg.
Opening: Friday 13 November at 13:00
In 2020, Barthélémy Garcia received the Swedish Arts Grants Committee's Assistant Grant with Klara Källström and Thobias Fäldt. The exhibition is a result of their collaboration, together with Johannes Wahlström.
Exhibition period: 13 November – 13 December 2020
The predominant decor and subject of Barthélémy Garcia's work is the city, illustrated by his ongoing project Fasadens Kulisser, The Facades' Coulisses, which includes his current exhibition FSNDS KLSSR – Ett kollektivt beslut, (a collective decision) shown at FG2.
In his artistic practice, Garcia departs from the idea that ​​the material itself carries significance. He believes that objects possess an independent existence extending beyond the meaning we humans attribute to them. The starting point for FSNDS KLSSR – A collective decision is an exploration of the material, with the camera aimed at the city. The photographer's suggestive gaze captures its social and physical distance, while being in the position of a bicycle messenger moving through today's gig economy.
Urban landscapes have a longer lifespan than us, humans, and form the matrix for the objects produced in our society. Our lives are closely connected with things. Decisions about our living environment are made in spaces that are generally not considered 'political' — it's the material that plays a decisive role here.
The amassment of everything that man produced from wood, glass, plastic, metal, brick, asphalt and concrete last year, would exceed the total weight of the entire biosphere; all that is living on earth. The exhibition at FG2 invites us to focus our attention on various aspects of our physical milieu — aspects that we are rarely conscious of, despite the impact they have on our lives.
Barthélémy Garcia (1985) is a French-born artist from Pertuis who has been based in the Swedish city of Gothenburg since 2011. He completed his BFA and MFA in Photography at Valand Academy after having studied Art history and Archeology in Aix-en-Provence. Garcia addresses life through — often mundane — materials and objects. During his time at Valand he developed a mild obsession with a radiator, subsequently expanding to AC's, cell towers, artificial grass, roofs and supermarkets. His work is intellectually inspired, carried out intuitively, and, more often than not, includes misplaced academic quotes.
Other participating artists in the exhibition are Gabriel Nils Edvinsson and Ksenia Yurkova.
The exhibition was realized with the support of Albért Faus, Una Sigtryggsdottir, Christoffer Rutström, Maria Safronova Wahlström, Anne Grietje Franssen and Nadén arkitektur och snickeri.
__
Archived Under T (Arkiverat under T)
Book launch, conversation and exhibition
On 1 October 2020 at 17:00, 18:00 and 19:00, Klara Källström and Thobias Fäldt invite Anna Strand to launch and present the book Archived Under T at FG2 in Gothenburg.
__
Smoke
Book launch, conversation and exhibition
On 30 January 2020 at 18:00, Klara Källström and Thobias Fäldt invite Theo Elias to launch and present the book Smoke at FG2 in Gothenburg.
__
Guidance for Investigators (Handledning för utredningsmän)
Book launch, conversation and exhibition
On 21 November 2019 at 18:00, Klara Källström and Thobias Fäldt invite Carl Johan Erikson and Björn Larsson to launch and present the book Guidance for Investigators at FG2 in Gothenburg.
In conjunction with the book launch, the video installation Interviews: Violence Against People will be shown.
About the book
Carl Johan Erikson and Björn Larsson have compiled documents concerning assessments of applications for non-combatant military service in Sweden from 1966–1989. Guidance for Investigators is part of the reasearch project Refuse to Kill: The Stories of Conscientious Objectors.
Refuse to Kill seeks to investigate a specific segment of recent Swedish history between 1966 and 1992 through the testimonies and narratives of conscientious objectors. In other words, those who chose not to perform traditional military service, but applied for, and were granted, non-combat service. Existential questions about the conscientious objector's movement, such as the right to invoke one's conscience, concern the individual's room to manoeuvre in relation to the law and rights, and still carry relevance today considering the resumption of compulsory military service. The right to conscientious objection is the main focus of the project, as well as social expectations, norms, gender structures and the logic of measurability.
—
Post-Photography: Histories, Geographies and Contemporary Challenges
In conjunction with the exhibition View India, shown at Landskrona Museum, Valand Academy, Hasselblad Foundation, Landskrona Foto and Lund University, arrange a public symposium.
The symposium will focus on how contemporary lens-based practices in India and elsewhere are investigating and addressing questions about local, national and global histories, social, political and environmental challenges today. The uses of archives, post-photography practices and different ways of publishing are also important issues which will be high-lighted in the symposium.
After the symposium the activities continues at FG2/Föreningsgatan 2.
The symposium is free to attend. Please register on the link below.
Lecturers: Ravi Agarwal, Rahaab Allana, Nihaal Faizal, Chinar Shan, Anisha Baid, Klara Källström, Thobias Fäldt, Ram Krishna Ranjan, Tyrone Martinsson, Karl-Magnus Johansson
Date: 9/23/2019
Time: 1:00 PM – 6:00 PM, Valand Academy, Vasagatan 50, Gothenburg
6:30 PM – 9:00 PM, FG2/Föreningsgatan 2, Gothenburg
Sign up for the symposium here
__
Museum of Yugoslavia (Radovan Cukić, Ivan Manojlović, Mirjana Slavković)
Works from the Travelling Communiqué Project

Museum of Yugoslavia (Jovana Nedeljković), Klara Källström & Thobias Fäldt and Johannes Wahlström
The End of Hypocrisy: A Good Day for Bad Weather
In production with Per Nadén, Barthélémy Garcia, Fabian Reppen and Christoffer Rutström

FG2 presents its third exhibition at Föreningsgatan 2 in Gothenburg
Opening: Thursday 23 May at 18:00
(Jovana Nedeljković and Radovan Cukić in conversation with Niclas Östlind and participating artists)
Exhibition period: 23 May – 9 June 2019

The transdisciplinary exhibition Travelling Communiqué was first shown at the Museum of Yugoslavia (MoY) in Belgrade in the summer of 2014 and it examines the role of one of the most important photographic archives of the 20th century, the archive of the cabinet of the life-long president of the Socialist Federal Republic of Yugoslavia (SFRY), Josip Broz Tito. It was the first and most extensive project ever made taking the photographic archive of MoY as it's point of departure including more than sixty works by forty authors from thirty-two countries created in various media: video essays, photographs, collages, photo walls, films, articles, lectures, documentary material.
The project was developed as a collective work by Armin Linke (Germany/Italy), Doreen Mende (Germany) and Milica Tomić (born in SFRY), in collaboration with the MoY team of curators (Radovan Cukić, Ivan Manojlović, Mirjana Slavković)
In May of 2019, the Travelling Communiqué exhibition will be shown in selected parts as a collaborative project between Museum of Yugoslavia and FG2.
The photographic archive of MoY encompasses the work of four photographers employed at the Cabinet of President Josip Broz Tito. Their cameras captured the activities of the former President from 1948, until his death in 1980. The Travelling Communiqué project points to the link between photographic protocols and the political network of a statesmen, or rather, the issues arising from the use of photographs as a means of legitimizing relations of (political) power. It addresses questions between photographs and political practice in socialist Yugoslavia and if a photograph then becomes an equal instrument of that political idea, on a level with political speech? The Photo Archive of Josip Broz Tito is the result of a collaboration between MoY's curators and the Travelling Communiqué project, with the aim of offering a new way of interpreting, as well as a possible direction in analyzing the role of the photographic archive of Josip Broz Tito.
At the invitation of MoY, Klara Källström and Thobias Fäldt have gone through the archive in search for the one and only travel that President Tito made to Sweden. In addition to the eight journeys surveyed in the Travelling Communiqué exhibition, Källström and Fäldt explore the photographic material from the occasion when President Tito met with Prime Minister Olof Palme at Hagaparken in Stockholm in 1976. Through a comparative analysis of the photographs from Hagaparken found in the photographic archive of MoY and present time's digital remains after the meeting, the search results extend well beyond the Cabinet's control. The most searched-for information on the events in the park seem to concern a small incident with President Tito's hand, an accident where his hand happens to be in the way of a closing car door. If search hits from the web are to be considered as a form of archaeological remains, the causal effect of what is left from the meeting is then a clamped limb.
In the FG2 exhibition and through the words of writer Johannes Wahlström, the injured hand in cropped format serves to ponder the strata of hypocrisy; once a theatrical act, subsequently turned into an age that finally sees its' own end – an end that proves to be a great day to talk about the weather.
Further info:
http:www.muzej-jugoslavije.org/en/exhibition/travelling-communique/
——
Elf Dalia

Book launch, conversation and exhibition
On 24 April 2020 at 18:00, Klara Källström and Thobias Fäldt invite Maja Daniels to launch and present the book Elf Dalia at FG2 in Gothenburg.
——
Aleix Plademunt
Works from the Matter Project
Aleix Plademunt, Klara Källström, Thobias Fäldt and Johannes Wahlström
The Swedish Matter – Or the Issue of the Gramophone Mind

In production with Per Nadén, Hanna Jacobsen and Barthélémy Garcia

FG2 presents its second exhibition at Föreningsgatan 2 in Gothenburg
Opening: Thursday 1 November at 18:00
(Aleix Plademunt in conversation with Niclas Östlind and participating artists)
Exhibition period: 1 – 14 Nov 2018
Since 2013, Barcelona based photographer Aleix Plademunt has been working on MATTER, his most extensive photographic project so far. Deriving from mater, the Latin word for mother, matter refers to the substance from which all things are made. In English, the word matter can also indicate importance or significance – something to be concerned about. Matter itself is inert, without motion, unable to reproduce. But it leads to life. The Big Bang's radical expansion created everything. During its life cycle, an organism undergoes many changes – it grows, learns, evolves and dies – but matter always remains. Matter is a constant. It was there from the beginning and it will remain long into the future. Humans emerged from one of the most recent evolutionary alignments in space and time. We have endeavoured to dominate and transform matter. Nevertheless, evolution is such a complex process that one can easily forget that it is only possible thanks to the precise imitation of original processes. The MATTER project analyses the age-old question of existence and how it pursues our origin.
FG2 (i.e the collaborations at Föreningsgatan 2) takes the starting point in an artist's already existing body of work and finds its way through further investigations. For the occasion of Plademunt's visit to Gothenburg, the trees in the MATTER project form a central role. A few years ago, Plademunt visited Sweden to take a photograph of the oldest tree on earth, a small pine on Fulufjället in the county of Dalarna. The Swedish Matter is the result of bringing MATTER into a specific historical and geopolitical position, of letting matter speak through it's bare existence. The presence of a tree, both as a physical witness and/or in the shape of a safety match, reminds us of a Swedish history inseparable from the material of which it is inscribed.
In 2000, Aleix Plademunt studied technical engineering at UdG and in 2003 he received a degree in photography from UPC in Barcelona. He has been exhibited widely counting over forty group shows and twenty individual exhibitions, most recently at Fotografia Europea, Reggio Emilia in Italy and Centro de Arte de Alcobendas in Madrid, highlighting the Almost There exhibitions at Le Bal in Paris and IMA Gallery in Tokyo. In 2011, he founded the editorial project Ca l'Isidret Edicions together with photographers Roger Guaus and Juan Diego Valera. Almost There was co-published with MACK in 2013 and with Ca l'Isidret Edicions he has released 5 books in total. In 2017 he was the recipient of the Hangar Residency Program at ADM México City and in 2015 he received the visual arts grants from Fundación Botín.
——
Thomas Sauvin
Works from the Beijing Silvermine
Thomas Sauvin, Klara Källström and Thobias Fäldt
On This Day
With text by Johannes Wahlström, No History, No Problem
FG2 presents its inaugural exhibition at Föreningsgatan 2 in Gothenburg
Opening: Wednesday 23 May 2018 at 18:00
(Thomas Sauvin in conversation with Niclas Östlind and participating artists)
Exhibition period: 23 May – 13 June 2018
Since 2009, the French collector and artist Thomas Sauvin has been salvaging discarded camera film from a recycling plant on the edge of Beijing. Undertaking an extensive project of buying rice bags filled with dusty and scratched negatives, the collection today encompasses over half a million anonymous photographs.
The project started when Sauvin met with a man called Xiaoma who works in the recycling zone and who solely focuses on trash containing silver nitrate such as hospital x-rays and cd-roms, but also camera film. Instead of the usual procedure of drowning the film in a big pool of acid in order to collect the precious silver, Xiaoma agreed to sell it by the kilo to Sauvin and subsequently, the Silvermine archive was born.
Beijing Silvermine is a unique photographic portrait of the Chinese capital and the life of its inhabitants following the Cultural Revolution. It spans the period from 1985 to 2005 when silver film began to be used commonly and leads up to the time of entry of the digital photography era. The archive marks a major part of the history of popular analog photography in China as well as the years of the country's economic opening when people began to travel and consume. This unceasingly evolving collection now constitutes a visual platform that Sauvin continuously invites others to interact with, while simultaneously impacting on our collective memory of the recent past.
Sauvin's work has been exhibited widely, including CAFA Art Museum in Bejing and Shanghai Center of Photography in Shanghai, China, Paris Photo and Fondation Cartier in Paris, France, CCCB in Barcelona, Spain, FORMAT Festival in Derby, UK, SF Camera Works in San Francisco and Museum of Contemporary Photography in Chicago, US. Sauvin's extensive book production has received great attention, including nominations at the Deutsche Börse Photography Foundation Prize in 2017 and 2014, Best Photobook at the Fotobook Festival in Kassel in 2017, 2016 and 2013 and Paris Photo / Aperture Foundation Photobook award in 2013.
In May 2018, Sauvin is invited to the newly opened exhibition space FG2 in Gothenburg to show a selection of works based on the Silvermine archive. Including the meticulously carried out album "Xian / 线" among other projects such as "Until Death Do Us Part / 双喜" and "Silvermine Albums", the exhibition forms the most extensive presentation of Sauvin's work so far in Sweden. For this occasion, the artist has invited two of the founders of FG2, Klara Källström and Thobias Fäldt, to interact with the archive. Comprised by a selection of texts entitled "No History, No Problem" by writer Johannes Wahlström and photographs from the Beijing Silvermine, the new project "On This Day" is the result of a collaborative work starting from the idea of the 'Silvermine archive meets Onthisday.com – "the world's largest historical events online database" '.
Further info:
http://www.beijingsilvermine.com/
https://www.youtube.com/watch?v=QzCls2dHePo (12 min. documentary about about Beijing Silvermine)