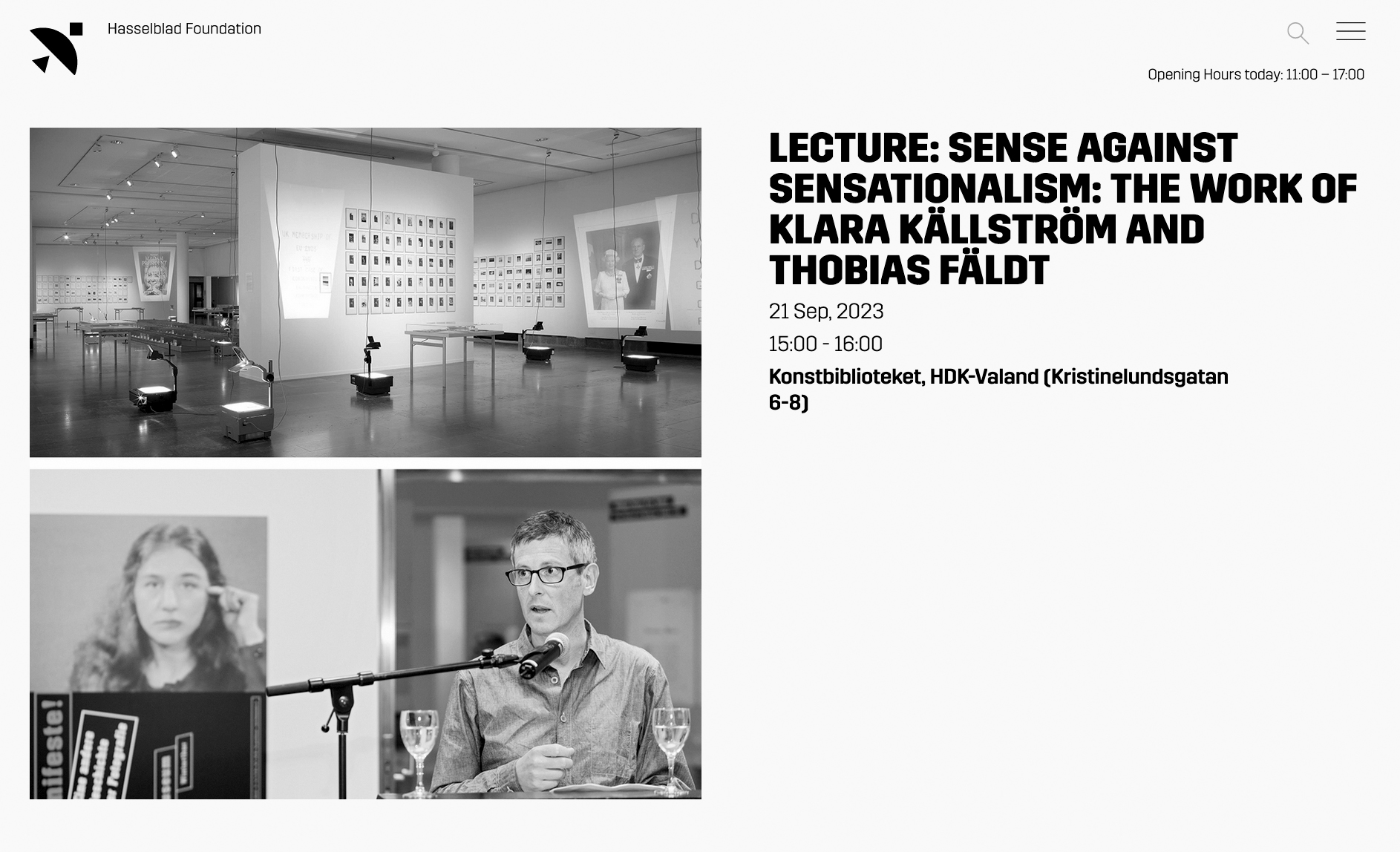 Above: Installation photo of Klara Källström & Thobias Fäldt at the Hasselblad Center. © Cecilia Sandblom/The Hasselblad Foundation Below: © Duncan Forbes
Lecture: Sense against Sensationalism: The Work of Klara Källström and Thobias Fäldt
21 Sep, 2023
15:00 – 16:00
Konstbiblioteket, HDK-Valand (Kristinelundsgatan 6-8)
Welcome to a lecture about the artistry of Klara Källström and Thobias Fäldt, with Dr. Duncan Forbes, Head of Photography at the Victoria and Albert Museum in London!
In their practice Klara Källström and Thobias Fäldt make extensive use of historical reference and historical juxtaposition to make sense of the present, including the status of photography. Building on the insights of their work, this lecture investigates the way that other contemporary photographers approach questions of historical consciousness and historical process.
How do photographers situate the medium critically in a world of frantically circulating images? What is the impact of globalisation on photographic practice today? How does contemporary photography reveal disjunctive or fragmenting temporalities? Paying close attention to artists' formal strategies, the lecture argues that questions of historical consciousness provide a potential route out of the impasse of image-making today.
PARTICIPANTS:
Dr. DUNCAN FORBES is Head of Photography at the Victoria and Albert Museum, London. He was previously a researcher at the Getty Research Institute, Los Angles, Director of Fotomuseum Winterthur, Switzerland, and Senior Curator of Photography at the National Galleries of Scotland, Edinburgh. His exhibitions, books and catalogues include Edith Tudor Hart: In the Shadow of Tyranny (Hatje Cantz, 2013); Manifeste!: Eine Andere Geschichte der Fotografie (Steidl, 2014); Beastly/Tierisch (Spector Books, 2015); and Provoke: Between Protest and Performance, Photography in Japan 1960/1975 (Steidl, 2016). Recent essays have appeared in catalogues for the Reina Sofia Museum, Madrid, and the Art Institute of Chicago. His latest book is An Interview with Lewis Baltz (MACK, 2020).